The Dow Transports index has been leading the way down for US equities. It was doing so in the first half of the year as well. It has led to some interesting analysis and a mute reminder of the classic Dow theory in action. This said in Nov I posted the possibility that wave B completed as a triangle, In the recent selling that turned out to be true, to the point that this index is now down to the point where C=A, almost and RSI is now at 24, making it a bit oversold. So with A-B-C down complete does this mean a bottom for this index? It could be, wave C counts as 5 waves with 13 legs down [remember counting impulses as 5+4+4].
Note if you are someone who read US press you would have read about Auto Loans reaching sub-prime standards and wonder if that is an issue. I wonder how big an issue it is. What I do know is that as Auto sales slowed rebates and loans have been offered to get existing owners of cars to upgrade to new models and that has worked to some extent. Does this deep correction reflect cracks in Auto sales in the US? A 3 wave decline for now means that some retracement should be possible.
Taking one step back to a longer term chart we see that the recent dip is to the long term trendline from the 2009 low on an arithmetic scale as well. So this is an important support. The long term wave count can also be up for discussion here. Wave 4 down is rarely a zig-zag as appears the case here. Wave 2 and 4 both here are 50% retracements. Note that at this point C is far below the wave A low made in Sept, but the DJIA is not and neither is the Nifty.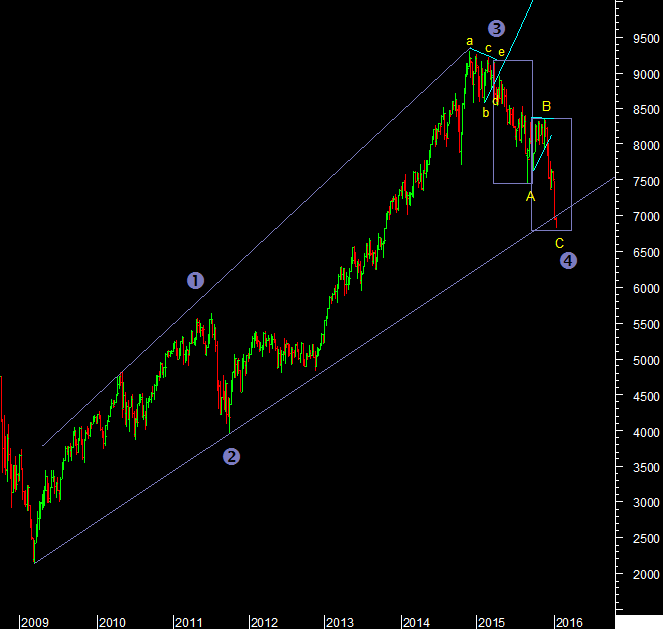 The S&P, take a trendline of the highs at 1 and 3 and draw a reverse channel. That is where we are now, so this is also an important support to watch, again using an arithmetic scale as that is working better on US markets this cycle. Sentiment as I discussed yesterday is in single digits so an extreme negative. If another leg up is to develop for US markets this is a good level for it to happen. A break would of course mean a trend reversal and a change in wave counts.