Nowadays, every professional trader in the Indian stock market is looking for technical analysis software as a part of various trading strategies. Be it fundamental analysis or technical analysis – stock trading software makes it easier for stock traders to get trade ideas. Moreover, with a wide range of automated features and functions, stock market traders can benefit from technical analysis software, and one doesn't have to be a technical analyst for that.
For instance, you can choose software with technical analysis indicators, chat rooms, or just stock data charts. It all depends on your purpose, trading strategies, and the pattern of your trading decisions.
Technical analysis software assists traders in understanding the distinctions and changing stock trends while driving logically apt decisions. Many advanced technical analysis tools and stock trading software available in the market facilitate users with various technical indicators.
For the Indian stock markets, here's a list of the 10 best technical analysis software you can choose from:
10 Best Technical Analysis Softwares for Traders
Here's a list of the 10 best technical analysis software useful for trading in the Indian stock market:
1. MetaStock
There exists a MetaStock software for technical analysis and market data package for everyone, whether you are an experienced trader or just starting out. Day traders will enjoy MetaStock Real Time powered by XENITH's real-time data and news.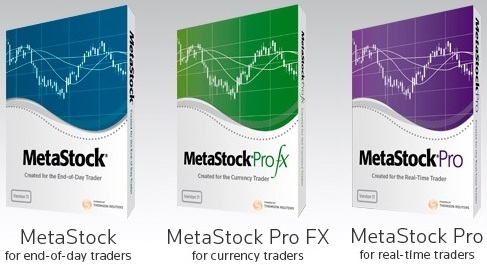 End-of-day traders and their technical analysis requirements will benefit significantly from MetaStock Daily Charts and Refinitiv DataLink. Here are some common features that MetaStock offers:
Charting
Data Analysis
Technical Analysis
Methodical
Financial Analysis and Reports
MetaStock Real Time is software for technical analysis created primarily for real-time traders that transact in real-time throughout the trading day using intra-day data.
MetaStock Real Time is a sophisticated stock analysis tool that helps you make educated decisions about what to buy and sell and when to trade to make the most money possible, whether you're an expert, active trader, or just learning how to trade the markets.
Pricing: $1395 (one-time) / $100 (monthly)
MetaStock Daily Charts is one of the best charting and stock analysis tools designed for end-of-day traders powered by Refinitiv DataLink.
Pricing: $499 (daily charts) / $69 (monthly) / $745 (yearly)
2. Spider IRIS+
Spider IRIS Plus is a technical analysis software program with a built-in payoff calculator. For the Indian stock market, this technical analysis program performs well. It comes with incredible system features that increase your productivity and allow you to exceed the competition. Spider software enables real-time technical analysis of your stock. It also has a built-in candlestick scanner.
Spider stock market software automates portfolio management and provides you with a more hands-on approach to stock analysis and trading signals. It aids in keeping track of significant market changes. In addition, it contains a macroeconomics game to help you increase your output. Deploy Spider IRIS Plus today to begin banking money efficiently and intelligently.
Spider IRIS Plus can help you increase your earnings by providing you with accurate information about the movement of stocks.
To acquire a better understanding of the software's stock analysis specifications, have a look at the features listed below:
Daily Comparative Chart: Daily Comparative Charts are an excellent tool for hawkish investors since they can compare different intraday stocks and create charts with other scripts or groups. This tool assists you in determining which scripts work effectively.
Technical Queries: Spider IRIS Plus has a specialized scanner for technical analysis that produces entirely scientific forecasts of stock price movement. The projections are based on market trends, macroeconomic factors, previous price performance, and stock volume.
Strategy Testing: Backtest your trading techniques on relevant historical data to ensure their viability before putting your money in danger. It is a fully developed strategic capital planner for you.
Other Features:
Customization
Candlestick Scanner
System Tools
Payoff calculator
Portfolio Management
Data Analysis
Predictive Analytics
Integration
Real-time Equity & Derivative
Reporting
Black Scholes Calculator
Pricing: ₹65000+gst
3. Tradingview
TradingView is a cloud-based charting and social networking program for active investment traders of all levels. It provides access to basic graphing, research, and information for stock analysis. However, because just a few brokerages are currently linked to TradingView, most trades in the stock markets must be executed outside of the platform. It covers worldwide equities, currencies, and cryptocurrencies with over 100 indicators and intelligent drawing tools.
The proprietary Pine Script language allows you to modify current indicators or build new ones from scratch. Thousands of scripts have been published by other TradingView users in the public script library.
100+ pre-built most popular indicators
100,000+ community-built indicators
50+ smart drawing tools
Volume Profile indicators
Candlestick patterns recognition
Multi-timeframe analysis
100+ fundamental fields and ratios
Financial statements
Valuation analysis
HTML5 Charts
Server-Side Alerts
Stock Screener
Such a wide range of functionalities bring it into contention for being the best stock analysis tool in the market.
Pricing: Free (with ads) / $12.95 to $59.95 per month (Pro to Premium Levels)
4. Investing.com
Investing.com is a financial markets platform that offers real-time data, quotations, charts, financial tools, breaking news, and commentary in 44 languages across 250 exchanges worldwide. According to SimilarWeb and Alexa, Investing.com is one of the top three worldwide financial websites, with over 21 million monthly users and over 180 million sessions. Apart from your technical analysis strategies, investing.com comes loaded with a full package of features that can provide useful trading ideas and enhance your stock trading journey.
Investing.com provides free and unlimited access to cutting-edge financial market tools such as real-time quotations and alerts, personalized portfolios, personal alarms, calendars, calculators, and financial insights, with over 300,000 financial instruments covered. This source can be the best one for you when it comes to accurate real-time market data and stock analysis.
Pricing: Free (with ads) / Rs 572 (monthly)
5. AmiBroker
AmiBroker technical stock market analysis software offers robust and simple-to-use charts, as well as swift portfolio backtesting. In addition, it provides optimal optimization with custom back testers, scoring, and ranking features. You may also utilize this software to automate typical activities with its batch processor.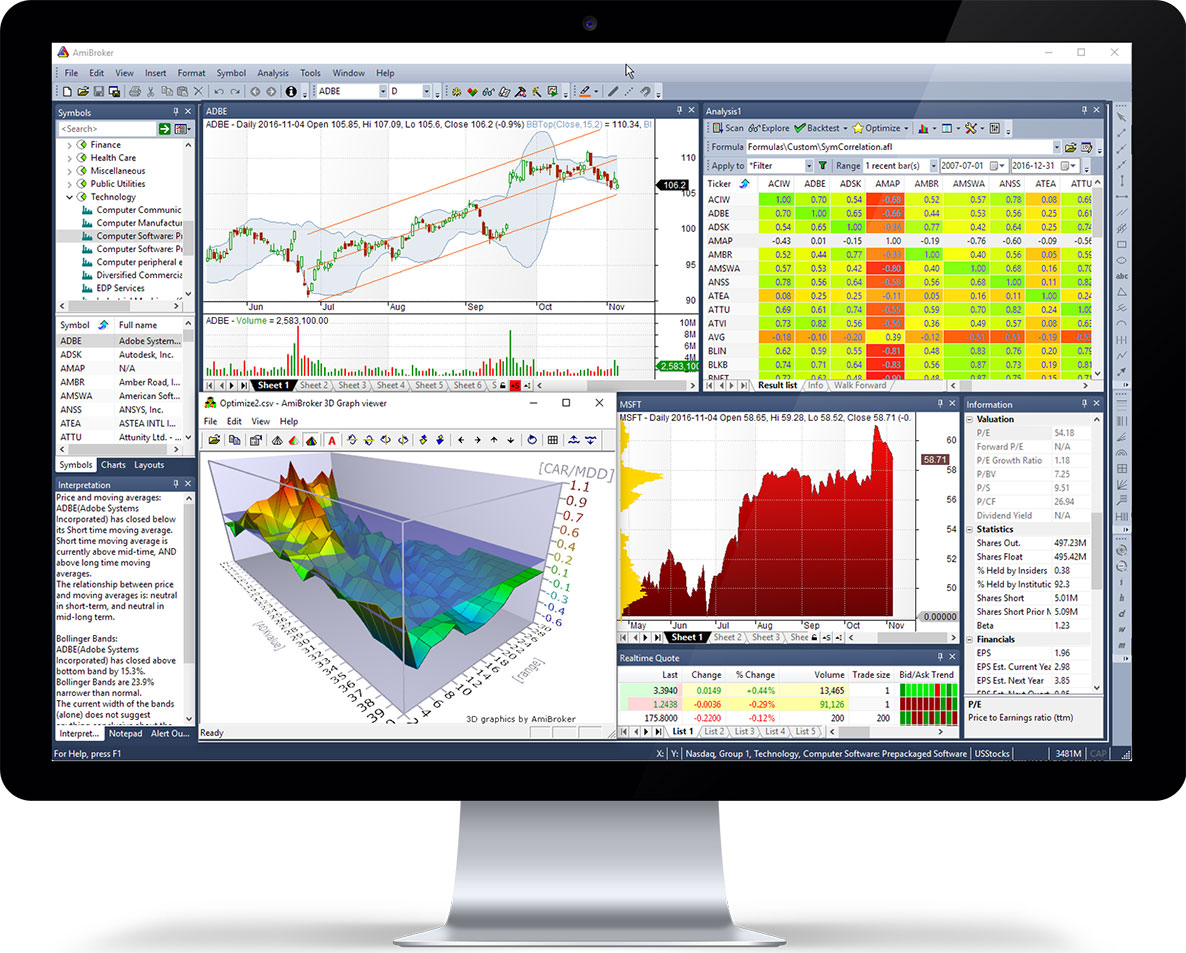 Features of AmiBroker India
Scoring & Ranking: It gives a bar-by-bar ranking to assist users in finding a profitable trading alternative.
Walk-Forward Testing: The software examines Out-Of-Sample performance to determine the robustness of your system.
Monte Carlo Simulation: Worst-case scenarios are provided to help users prepare for market downturns.
The Analysis Window: This window contains everything, including optimizations and Monte Carlo Simulation experiments.
Market Screening:: It delivers tabularized symbolic data for multi-purpose screening.
Pricing: $299 (standard) / $359 (professional) / $499 (Ultmate)
6. eSignal
eSignal is a cloud-based stock trading tool best suited for day trading. It enables you to analyze trading markets more quickly and build personalized charts at any time and from any location. The software can forecast future trends, enable technical analysis, and provide real-time market data, allowing traders to make well-informed decisions that lead to profitable outcomes. It may be tailored to fit your trading style. Strategies such as these push you towards growth.
eSignal has a number of geographically dispersed server farms providing live data from redundant and direct links to several global exchanges. In addition, it has extensive bar replay and historical data capability for backtesting trading market methods across all marketing trends.
You can quickly execute trading operations with eSignal charting and technical analysis tools. Scanning and backtesting tools are also included for evaluating the success of trading strategies. VIRATECH software is the authorized representative of e-Signal software.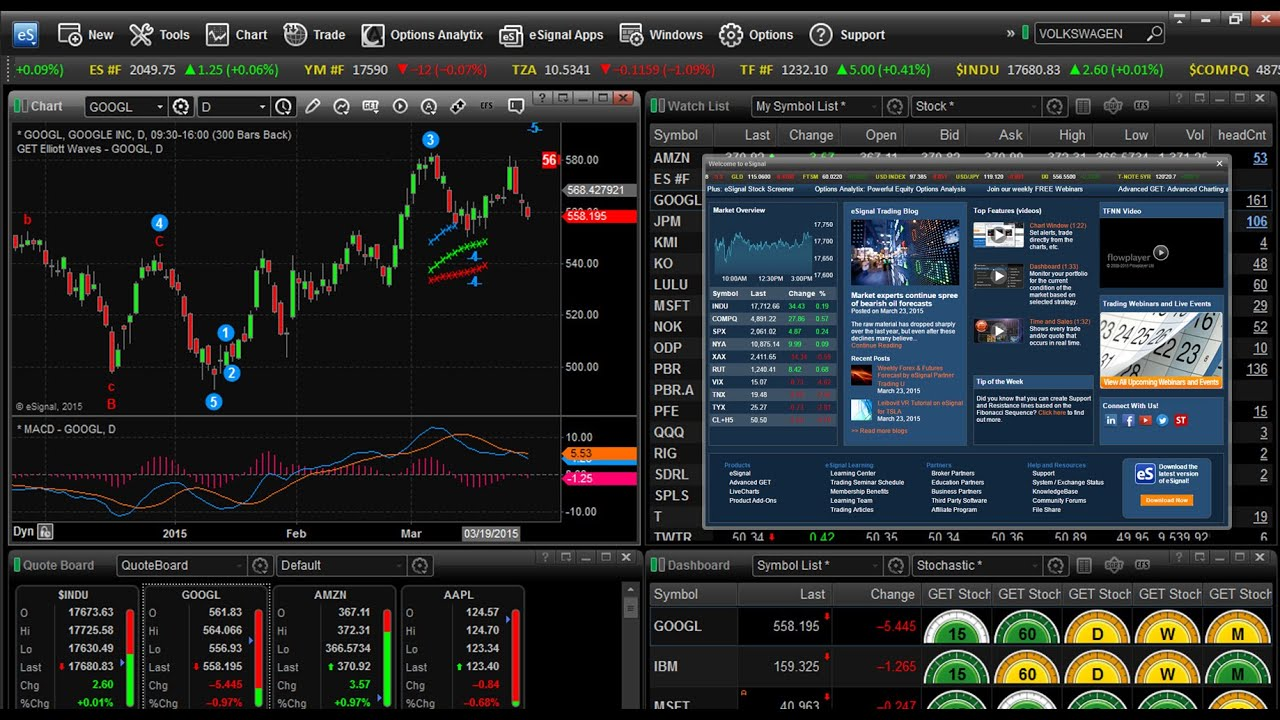 The software's real-time data service gives users access to data from many worldwide marketplaces, allowing them to plan their strategies and apply best trade practices. You can acquire intraday market data for trading choices with the aid of this intraday trading software. With this intraday trading software, you may collect data using customizable and adaptable graphing features:
Graphs & Charts
Stock Valuation
Alerts & Notifications
Real-Time Data
Market Analysis
eSignal Mobile
You can learn about fresh trading possibilities without having to sift through tens of thousands of individual stocks. If you're searching for the best stock research tools and data visualization tools, eSignal should be the one for you.
Pricing: $576 (classic) / $1739 (signature) / $3772 (elite)
7. Trade Tiger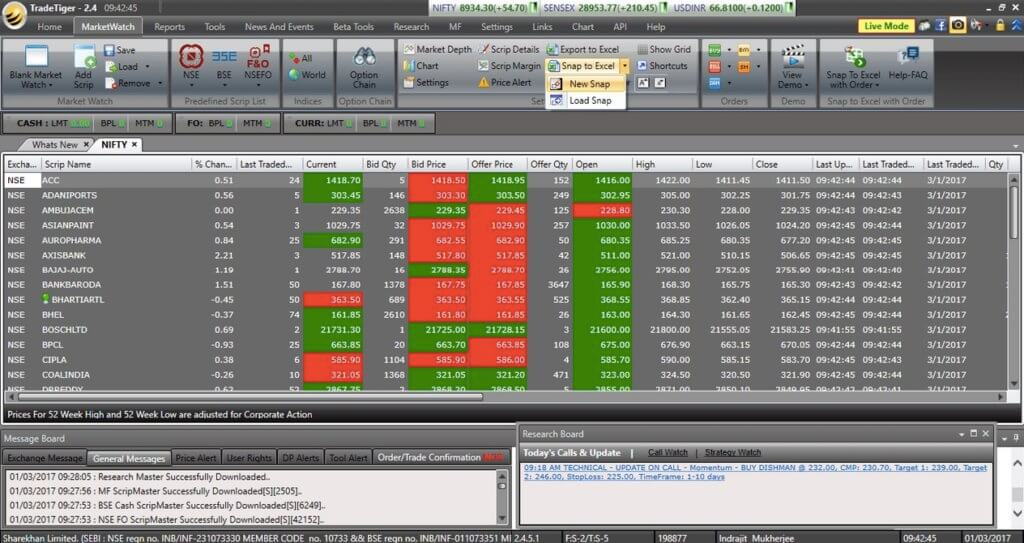 For the past 10 years, Sharekhan Trade Tiger Software has been on the market. The Trade Tiger Terminal is updated on a regular basis to reflect new market developments. Here are some of the essential elements that make it such a remarkable platform.
Fast and Reliable Feeds
Multiple Exchange Platforms
One of the Best Charting
Advanced Stock Research Tools and Advance Order
Free Online Training
Online Support
The advantages:
Currency options can be traded on both National Stock Exchange (NSE) and the Multi Commodity Exchange (MSX) without any issues or limitations.
For BigTrade products, you may also place advance orders such as bracket orders or trailing stop-loss orders in the National Stock Exchange Cash or the Bombay Stock Exchange Cash.
Using the Sharekhan Trade Tiger Software, you can effortlessly square off at the market for a bracket order.
You may utilise the software's research area to uncover up-and-coming stocks and make early investments in them.
Advanced trading tools are accessible, such as the Dynamic One-click Filter, the One-click Filter, the Stock Scanner, and the Heatmap, that may help you decide whether or not to invest in a stock.
Pricing: Free for Sharekhan users
8. ODIN
Over 1000+ brokers and financial institutions in India utilise the ODIN trading software. It is a reliable, quick, and powerful trading platform for BSE, NSE, and MCX trading. The following are some of the most critical aspects of the ODIN Diet: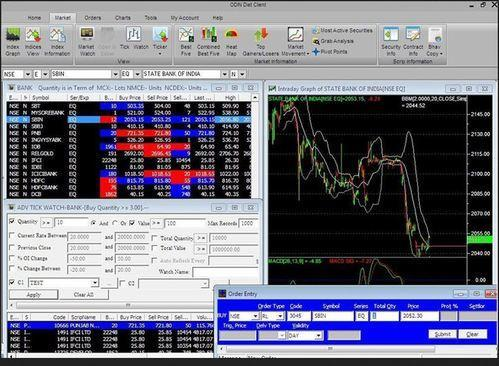 The oldest and most widely utilised trading platform is ODIN. In 2015, it had a market share of more than 75%.
Brokers may use ODIN to get end-to-end solutions such as Front Office, Middle Office, Back Office Clearing, Settlement, Accounting, and Messaging Solutions are all part of the package.
For ODIN, the company provides Managed Service. This implies that they look after the broker's hardware, software, exchange connectivity, client connectivity, backups, and disaster recovery.
ODIN has integrated OMS and RMS.
Provide API access to brokers. These APIs allow brokers to create their own front-end apps.
The company's most substantial offering is the ODIN Diet trading terminal. This market domination product has been the best tool available for regular traders and dealer desks for almost two decades.
ODIN Key Features
ODIN Diet is an all-in-one trading platform. It allows you to trade stocks, currencies, and commodities from one screen and with only one login. BSE, NSE, MCX, and NCDEX are all exchanges where you may trade.
ODIN Diet is designed for traders who often trade as well as dealers who place orders on behalf of customers. The following are some of the primary features of the ODIN Trading Platform, in addition to the usual trading functions:
ODIN offers online trading through its desktop, web, and mobile applications.
ODIN Trading Terminal (ODIN Diet) is the desktop's most extensively used trading platform.
ODIN gives access to several asset categories at different exchanges.
ODIN comes with an integrated OMS and RMS making it fast, stable, and reliable.
ODIN is also offered as managed service. This negates the requirement for the broker to maintain the trading platform. As a result, there is a lesser chance of downtimes.
Plug-ins are provided for advanced users.
Users can install 3rd party plug-ins on ODIN. This feature is not available on other trading platforms.
It supports multiple market depth windows.
It enables users to design custom indicators, which are now available in both NSE NOW and Omnesys NEST.
Pricing: Varies from broker to broker
9. NinjaTrader
NinjaTrader is a trading platform that allows you to create, test, and simulate a trading strategy for stocks, FX, and futures before risking real money on a live market. With pre-defined entry and exit points, the software facilitates trading administration. As a result, you may trade profitably while minimizing your stress. It also takes emotions out of trading decisions and saves time to analyze market patterns and develop trading strategies.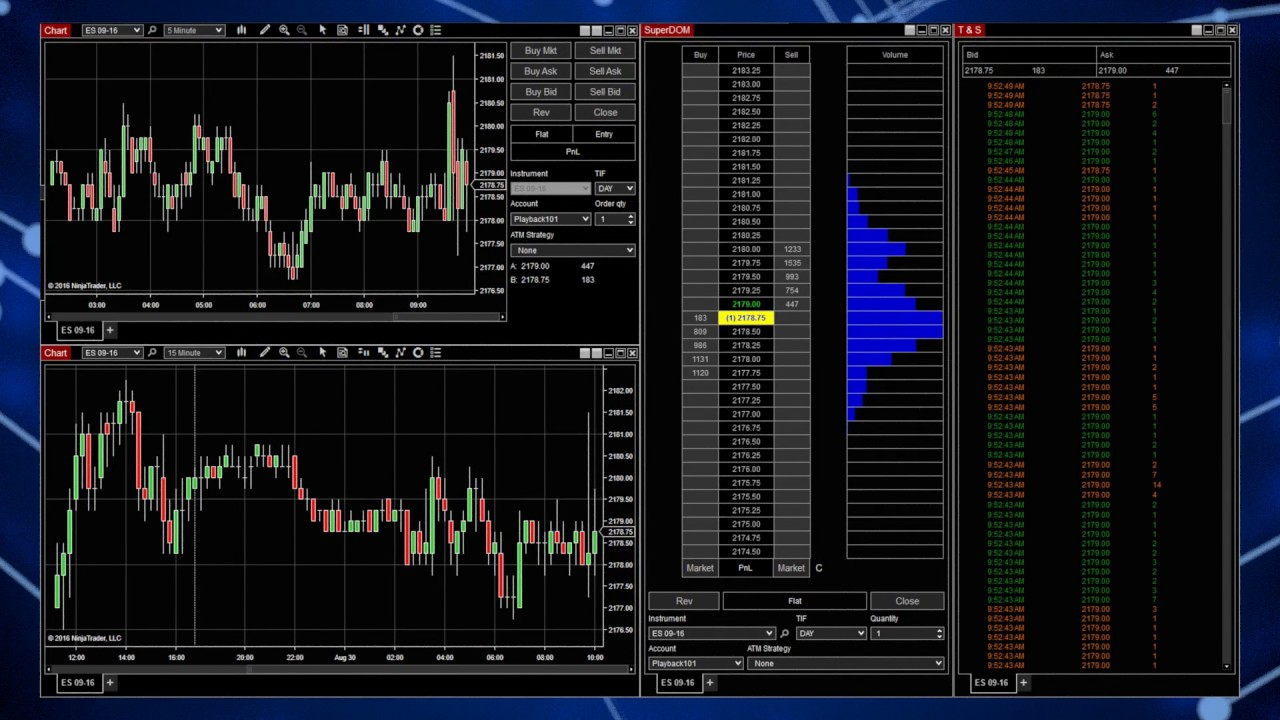 NinjaTrader can be used for free for advanced charting, backtesting, and trade simulation, although third-party developers charge for some indications. The basic package includes more than 100 technical indicators and fundamentals, charting, trade journaling, and research tools.
Features of NinjaTrader
Chart: Analytic reports and charts might help you uncover new trading chances.
Simulate: To test trading possibilities, the software assists with simulation and backtesting.
Trade: You have the option of automating or manually performing trading chores.
Build: Developers can create their own indicators and drawing tools.
Pricing: Free (core essential) / $720 (annual lease) / $1099 (single payment)
10. JStock
JStock makes it easy to keep track of your stock portfolio. It gives well-organized stock market data to assist you in determining the optimal investing plan.
Stock Watchlist
Portfolio Management
Alert
Indicator Filter
Charting
Cloud Storage
Currency Exchange
Stock Market News
Android
WeNote
Pricing: Free
Why should you use technical analysis software?
A technical analysis software not only paves the way for automated trading but can have several diverse features (like customized technical indicators) to utilize. Speaking of utility, every stock trading software has its own forte and advantage. However, the end result is more or less the same—convenience and streamlined stock trading for the investors in the Indian stock market.
Let's take a look at some basic and advanced features that can go hand-in-hand with technical analysis software:
Scanning tools
Certain analytical tools and software come with a stock market scanner. Traders can use it to research stocks that fit into their criteria and match their trading needs. Scanning tools also help interpret upward and downward stock movements, thereby easing decision-making.
Customizable Charts
Data charts in trading play a vital role when it comes to forecasting stock market trends and fundamental analysis of stock patterns. When such charts are customizable, they enable traders to set relevant filters to obtain the desired analytics.
Unfortunately, not every technical trading software comes with customizable charts, meaning that custom features are available only in selective research tools.
Up-to-Date News
Technical analysis software isn't just limited to market research. Analytical tools and stock trading software provide the latest market news and potential for accurate fundamental analysis. Traders can use such news updates to make event-driven decisions and form trading strategies.
Reports
Software for technical analysis can provide the latest reports and case studies on different stocks and their potential or ongoing trends. As a trader, you can make use of these reports as a reference to strengthen your research and obtain the desired insights by conducting the best technical analysis.
Algorithm trading
Algorithmic trading (alternatively known as automated trading, algo-trading, or black-box trading) involves technical analysis trading software that works on a specific algorithm or instructions for placing a trade. The trades are meant to generate faster and more significant profits that are otherwise not possible in the case of human traders.
Algorithms take into account factors such as price, timing, or quantity, to name a few. Along with profits, algorithm trading helps in bringing greater liquidity into the market while turning trading into a more systematic process. This is possible as it negates the effect of human emotions out of the picture when making trades.
Customized indicators
Customised technical indicators are charting tools where traders can apply different parameters and filters to obtain customised results. This way, traders can come up with their own choice of trading signals and get relevant alerts.
Key Takeaways
Technical analysis software includes features that make it easier for users to make trading and investment choices. Stock trading software/share trading software's different interactive features and tools are meant to make a trader's, investor's, or any other end user's business processes easy and simplified. When looking for the best technical analysis software, it's important to have clarity on your specific trading needs.